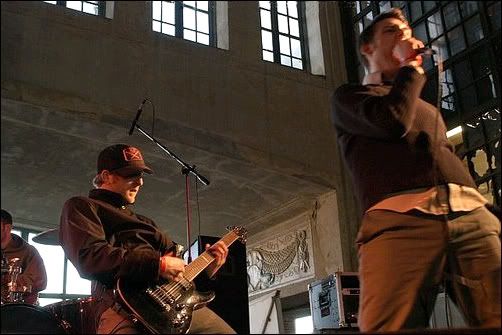 Jamie Getz is a smarmy bastard. I don't even remember meeting this guy, but I do clearly recall seeing him and Alexander T near-fighting each other on stage, mid-LICKGOLDENSKY-set at some poorly attended festival in Cleveland years ago. Alexander was clearly mad and just trying to do his frontman thing, but Jamie had a huge grin on his face while he's playing guitar and simultaneously throwing chairs and water jugs at the vocalist of his band. I think Getz gets away with a lot because he's a badass songwriter, and an all around hilarious motherfucker. Dysfunctional to say the least but the guy's got a heart of gold, and thus we've been suckered into releasing several things by this maniac now.
The first, a trainwreck known as VERSOMA, is probably one of the most underrated Robotic Empire releases sonically, but logistically was a total nightmare. Most of the band didn't really get along too well, and all I wanted to do was release a simple record that ended up turning into a total mess.
Directly after the disastrous dissolvement of LICKGOLDENSKY, but with a full US tour already booked, I witnessed Jamie and hyperactive drummer Eric McManus throw together an incredible near-improv live set under the moniker GODS & QUEENS. They knocked out 4 or 5 songs in as many days prior to the lengthy tour with HOT CROSS and wouldn't you know it, the songs were awesome. I asked Jamie to do a simple, two-man record after hearing a demo he'd done with another drummer and he agreed. Fast-forward a few months and he's gone and assembled a full band, with members spread across 4 different states. GREAT.
Although VERSOMA didn't make it in the long run, they did manage to nearly steal another band on our label's already existing name... and knock out one killer EP in the process.
Life During Wartime
was the result, 6 tracks of all kinds of weird shit on the outer crests of the "hardcore" realm... that make perfect sense in hindsight after hearing what the members went on to re-create separately in the forms of TOMBS and GODS & QUEENS... round two.
I'm posting the original demo material of VERSOMA's
Life During Wartime
. It's 5 of the 6 songs from the EP, 1 song missing vocals and 1 on there twice (with and without vocals). I feel like this band could've been really popular had they managed to overcome trivial personal squabbles, but in the end with Mike Hill going the direction he has with TOMBS and Jamie Getz going the direction he has with GODS & QUEENS, I'm just happy the two VERSOMA guitarist/vocalists are still making good jams... even if not together. Both of those dudes are total lifers.
*
download VERSOMA - Life During Wartime demos
(via MediaFire)
*
download VERSOMA - Life During Wartime demos
(via RapidShare)
It should be noted that these are raw demos and probably not even fully mixed, so if you're into what you hear here... the proper release of
Life During Wartime
is still available from us on both CD and vinyl, and probably will be for ages as we pressed way too many and the band broke up DIRECTLY after it came out (thanks guys).
Anyway the CD is less than 5 bucks and the vinyl is under 8. Our stuff doesn't get much cheaper than that, and you can find
Life During Wartime
here in the Robotic Empire - Online Store
.
The two-man demo track mentioned above was eventually released by Level Plane on their "80 Records and We're Still Not Broke (Yet)" 2xCD sampler/compilation (
still available here
) under the moniker GODS & QUEENS. This eventually got scavenged by VERSOMA, but I still think this song rips... and honestly sort of wish everything else turned out sounding similar. Whatever, the end results of everything still sound cool, but this should at least give you an idea of why Robotic Empire foolishly got involved with Jamie Getz in the first place:
*
download GODS & QUEENS - Song #1
(via MediaFire)
*
download GODS & QUEENS - Song #1
(via RapidShare)
Also closely related to all of this is Getz' resurrection of the original name and idea: GODS & QUEENS, who as a relatively new band have somehow managed to stay together more than a few months past the release of their debut,
untitled
, which we've made as a CD and 12" vinyl packaged together. This is currently available in the
Robotic Empire - Online Store
.
Although I hesitate to say anything in fear of jinxing it, my fingers are crossed for these guys to stay together for a while as I (
and others
) really like them, and they're a pretty solid trio of dudes too. Anyway, they recorded a whole separate (possibly better sounding) version of
untitled
prior to pissing off the original engineer and the whole thing getting scrapped. One song wasn't re-recorded when they hit the studio in Brooklyn, and with the band's approval we're posting it here:
*
download GODS & QUEENS - untitled (8?)
(via MediaFire)
*
download GODS & QUEENS - untitled (8?)
(via RapidShare)
So while Jamie may be a surly sonuvabitch, I imagine we'll continue to end up working with this fool for ages.
RELEVANT LINKS:
*
ANODYNE items in the Robotic Empire - Online Store
(Mike Hill's band pre-VERSOMA and TOMBS)
*
GODS & QUEENS items in the Robotic Empire - Online Store
*
GODS & QUEENS on myspace
*
VERSOMA items in the Robotic Empire - Online Store
*
VERSOMA on myspace
*
TOMBS items in the Robotic Empire - Online Store
*
TOMBS on myspace