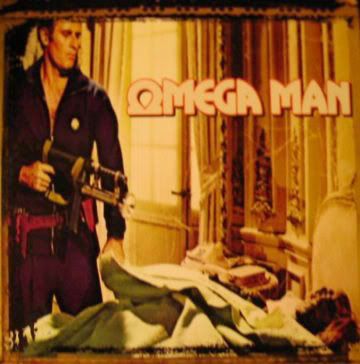 CD cover at left (sticker below)
OMEGAMAN were a classic 1990's underground band: straight-edge, hardcore, and introduced almost every song with a movie sample. The thing that set this band apart, and the reason why they always stuck out to me, was their decidedly
metal
approach to hardcore. In the mid-90's metal and hardcore were almost completely different worlds, and the term "metalcore" didn't even exist yet. There were definitely other bands mixing metal and hardcore, and had been for years, but before OMEGAMAN I hadn't heard anything quite like this.
Being a rabid REVERSAL OF MAN fan, I got the
403 Chaos
CD comp they were on, and was introduced to ASSUCK, CAVITY, COMBATWOUNDEDVETERAN, OMEGAMAN and some other killer Florida bands this way. All my summer jobs' money got spent with the mailorder distros Bottlenekk, Vacuum and Very, and the OMEGAMAN CD surely came from one of them.
Listening to this again over a decade later, it does sound a bit dated... but it's also still brutal and fairly ahead of its time. I'm throwing in all the compilation tracks that I could find, so here's the OMEGAMAN discography as best I could assemble it:
*
download OMEGAMAN - discography
(via MediaFire)
*
download OMEGAMAN - discography
(via RapidShare)
Also dug up this ancient description from No! Records, the label that released OMEGAMAN, by searching the Internet Archive Wayback Machine:
"Crawling from the ashes of Scrog came OMEGA MAN. A biting blend of Protestant - era Rorschach and the Accused's intense thrash punk, they released 2 songs on compilations and 1 self titled CD EP. The first 1000 copies of this EP were released by the band in 1997 and quickly went out of print with no airplay or distribution, only playing local Tampa Bay area shows with bands like Scrotum Grinder, Reversal of Man & Assuck. No Records repressed this record shortly after with a full color sleeve designed by graphic arts master John Yates (formerly of Allied Records), depicted pictures from the 1971 Sci-Fi flick, Omega Man. This repressed version is still available for $4.00 ppd in the USA, or $6.00 ppd anywhere else. Comes with a lyric sheet and Omega Man sticker."
Finding the dude from No! Records online, he gave me the thumbs-up to post this stuff. Everything included here is out of print, except for the song "Definition" that only a 30-second clip of is included. That song can be found on
The Emo Phillips Diaries: From Tampa to Eternity
CD comp which is available for just $4
here
.
Dudes from OMEGA MAN came from the ashes of SCROG, who's discography can be found for $5
here
. A couple of the OMEGA MAN guys are now playing in LIGHT YOURSELF ON FIRE, along with the vocalist of REVERSAL OF MAN. We released a cassette tape for LYOF which is now sold out, but some other items of theirs can still be found in our Online Store:
*
LIGHT YOURSELF ON FIRE items in the Robotic Empire - Online Store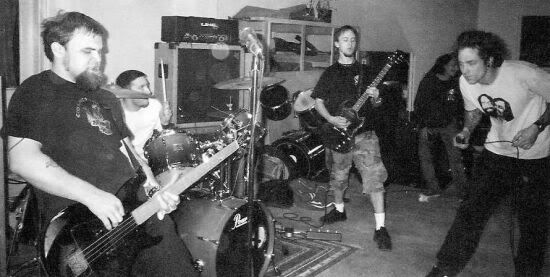 BONUS:
just found some more GARUDA stuff! (see below or
click here
for the first post about this band)
The original GARUDA demo was also unearthed in the bottom of a closet, which has four tracks recorded live (a bit more info can be found on the "
press sheet
" that they included with the demo). Three of these songs got re-recorded for
Cold Wired Sentiment
, but the last one remains exclusive to this demo. Also found in the same CD case was the other then-new studio tracks they sent us along with their contribution for the
Mutation
comp. Their track for the comp was called "Thirteen" and the CD-R of new songs was only labeled "12, 14, 5" which makes me guess those were the song titles. Anyway, the original CD-R hasn't survived too well over the years, so apologies for the small amounts of digital clipping that occur once or twice throughout these tracks. Pretty certain these never saw the light of day elsewhere, so enjoy these "new" GARUDA songs!
*
download GARUDA - original and unreleased demos
(via MediaFire)
*
download GARUDA - original and unreleased demos
(via RapidShare)
If you like these jams please consider picking up the
Mutation
CD comp that we released. GARUDA kicks things off on it, and we're asking less than 5 bucks for it. You can find it in the
Robotic Empire - Online Store
.