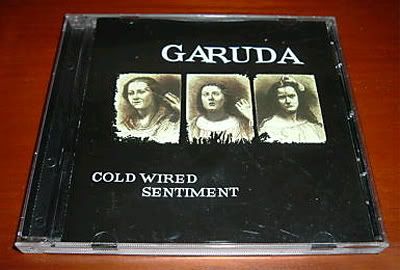 2002 release of GARUDA's sole non-robo output,
Cold Wired Sentiment
. We had these guys open up our
Mutation
compilation as their track ripped the hardest, and the material found on this debut EP is equally powerful. They mix the perfect amount of death metal, grindcore, melody and sludge as only sons of Texas could produce.
Got to see these dudes live once in Richmond and they absolutely devastated. Had they stayed together I truly think they could've been a household name (in the metal underground world, of course).
*
download GARUDA - Cold Wired Sentiment
(via MediaFire)
*
download GARUDA - Cold Wired Sentiment
(via RapidShare)
Pretty much punk-ish grinding death metal with memorable riffs galore. Don't know anything else about this band, what the dudes did after GARUDA broke up, etc. What I do know is that this EP totally shreds, is probably long unavailable (released by the obscure "
So, Why Worry?
" label/zine) and the only other thing available by these dudes is Robotic Empire's
Mutation compilation CD
release.
We're selling
Mutation
for only 5 bucks so if you like what you hear on
Cold Wired Sentiment
, please consider checking out
Mutation
!
UPDATE:
be sure to also check out
this post
for additional demos and a few final, unreleased songs from GARUDA!