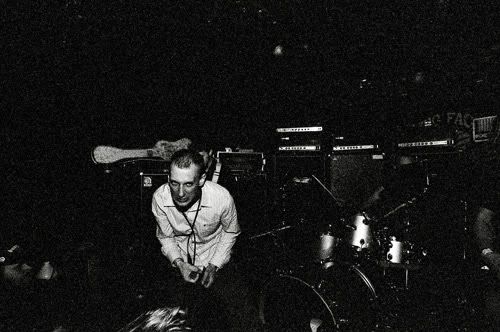 Running a record label means you meet a million dudes in bands, and sometimes those dudes are a bit more memorable than their bands are. I was able to tag along on a few PG.99 tours in the early 00's and met a lot of awesome folks all across the country. Louisiana's sons were immediately warm and welcoming to us, and Bryan Funck is one of the most blatantly dedicated, down-to-earth people I met on those tours.
I don't know if he was in RAT IN A BUCKET or EAT A BAG OF DICKS (or both), as the memories of the few shows PG.99 played with these two NOLA-area bands all blur together. I can't even remember what RAT IN A BUCKET sounded like, but EAT A BAG OF DICKS was just absurd. This band had somewhere between 10 and 20 members, most of them vocalists, and all-in-all the band was just kinda... bad. I don't know if they were trying to be a joke or serious or what, but the band had WAY too many people for it to even be remotely reasonable. This didn't hinder this massive army of dudes and ladies from being totally awesome people, but despite a mildly entertaining live performance, it bummed me out their music wasn't more enjoyable.
Fast-forward many years and Bryan hits me up saying he's got a new doom/sludge band going. I didn't have high hopes for it being exceptional given my underwhelmed reaction to his previous bands... but when I played THOU's original 3-song demo it was like a strong, long-overdue slap to the face. An absolutely intense mixture of desperation, melody and crushing, down-tuned riffage... and this was just the band's demo! This not only blew me away, it also made me really happy as I'd always liked Bryan but wasn't particularly moved by his previous bands. Not long after sending the demo, they re-recorded the vocals for these songs and finished the few remaining tracks that were initially recorded before a vocalist was even in the band. Bryan and the rest of THOU found each other somehow and his raging, scathing voice perfectly compliments the band's fresh take on genres that typically repeat history more often than looking forward.
I couldn't stop listening to THOU's self-released
Tyrant
LP, absolutely enthralled, fighting and fighting urges to ask them to release an album with Robotic Empire. I've reached this point with the label many times over the years, where the workload/stress becomes too intense to build on top of, and I hold off from lining up new releases for a while so we can just concentrate on the already full plate of pending stuff. During these times I've try to scratch that "need to work with this band!" itch by peddling said band to friends' labels. For better or for worse, this is how MARE ended up on Hydra Head, WILDILDLIFE ended up on Crucial Blast, and THOU ended up releasing their debut as a CD on Gilead Media (and eventually a vinyl re-release on Southern Lord).
I think THOU were the one I regretted not working with the most, as I still listened/listen to them constantly. It may sound hokey, but there aren't too many bands that give me goosebumps with their recordings... and THOU consistency succeeds in doing so. This band also has an approach to things that completely jives with my love for the underground, and as time went on and the idea for a PYGMY LUSH split was brought up... there was no way I could say "no" again.
Although the split 12"+CD with PYGMY LUSH is still quite a ways away (neither band has recorded yet), THOU have posted every song they've released on their own
website
. They make their entire released catalog available for free download, and I love how progressive and generous this is of them. As of posting this, THOU's two full-lengths,
Tyrant
and
Peasant
, and a pile of songs from splits are available in the following location:
*
THOU - released audio (to date)
Their website
also has the lyrics for every song they have (released and unreleased), and boatloads of content related to the band. This is how Bryan has always done things for his bands and I think the sheer massive amount of freely available content indicates how forward-thinking this band is.
Although the split with PYGMY LUSH probably won't be available until late 2009, we will also be working with THOU in the immediate future on a handful of projects. First off is the re-printing of most of their t-shirt designs, all on sweatshop-free American Apparel shirts, and available for as cheap as we can make them while still compensating the printer, band and ourselves a bit for the work. These will be available from us within the coming weeks, and following shortly after the shirts will be the "Baton Rouge" EP. Most likely a 12", this will contain an incredible (and crushing) NIRVANA cover and a few new songs the band's just recorded. More info on this release will be posted on our
Robotic Empire news blog
when it becomes available. In the meantime, feel free to check out the records and apparel we have currently available from THOU:
*
THOU items in the Robotic Empire - Online Store