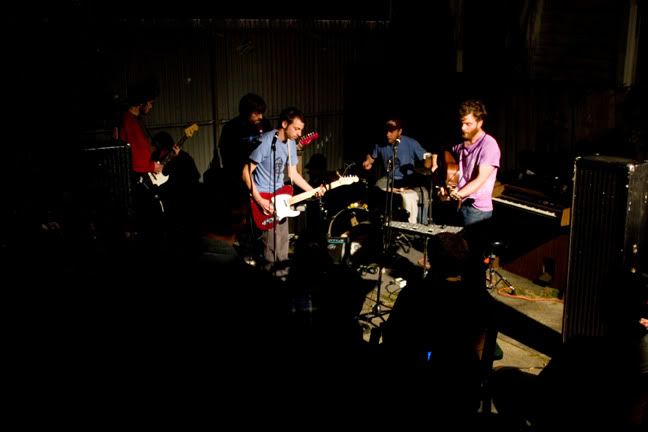 Over the years I've associated many changes to the record label with a certain group of musicians from Sterling, Virginia, specifically the Taylor brothers Mike & Chris and their surrounding friends. In the formative stages the first Robodog Records release was with pg.99 (split with my highschool band, Reactor No. 7), and even before then the first ever punk rock show I went to was in a basement to see the guys previous band, Nit Pic.
Years later when I "got serious" with the label and decided to change the name to Robotic Empire, a pg.99 7" release was again the (re)starting point. Throughout the years the label has evolved, and so have these musicians. Mannequin and then Pygmy Lush are just a couple of the bands the core dudes here formed that we went on to release records for... and I've only enjoyed their newest material more and more as the times go by.
Its no major surprise that I've associated another big life transition with some songs these guys have created. Pygmy Lush played in Richmond on October 24th, 2009 and it was easily one of my favorite sets seeing them play. They opened it up with a joint-set with Des Ark (playing songs they'd all written together in the weeks prior) and followed that with a set of a few oldies and 4 new goodies. Those 4 unreleased songs are what I'm posting here:
*
download PYGMY LUSH - In a Hole (via MediaFire)
*
download PYGMY LUSH - In a Hole (via RapidShare)
*
download PYGMY LUSH - In a Hole (via SendSpace)
Brother JK "Jeeb" thankfully captured these songs via various microphones, and I am largely indebted to him as well as the band for giving me the soundtrack to some glorious yet difficult times. Songs can have different meanings from what you may take from the lyrics, but if anyone else out there gets even an instance of what I got from this stuff, I'm beyond satisfied. It can be a crazy world, and having a little audio help to get through it all can make a huge difference.
These were all recorded live so please keep that in mind when listening, and also that I have no idea what I'm doing with "mastering" so all I was able to do was make the recordings a bit louder... and thus, song to song the volume fluctuates a good bit. Jah willing these guys will actually get into a studio sooner than later to properly document these, and all the others that they're already cooking up. I can't wait to hear what they've got for us next, as they'll surely become the new soundtrack to an ever changing existence. Godspeed & peace out!!!